Animals are found throughout the entire world and they drop some items that you can only obtain by killing them, like the dodo 1.bagers  Found in trees and will attack if provoked and sometimes during the night. Drops fur and/or leather upon death.
2.Dodo
Will spawn naturally throughout the map. They never attack the player and only run away when hit. Drops a dodo feather and a uncooked dodo meat upon death. Uncooked dodo meat can be cooked in fireplace. Sometimes drop Dodo Eggs. Can be eaten or placed on the ground. When placed on the the ground they will eventually hatch into dodo birds.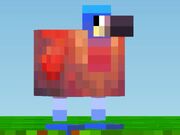 3.Donkey
Found near the equator or growing carrots. Donkeys will never attack the player and run away when hit. It is possible to ride it but a carrot on a stick is necessary. It can jump 2 block high when rode.
Ad blocker interference detected!
Wikia is a free-to-use site that makes money from advertising. We have a modified experience for viewers using ad blockers

Wikia is not accessible if you've made further modifications. Remove the custom ad blocker rule(s) and the page will load as expected.